A unique experience carefully designed to offer you a blend of culture, gastronomy, and art.
Visit the beautiful Mexican state of Oaxaca and partake in the Day of the Dead (Dia de Los Muertos) festivities. Experience the altars, the comparsas, and the wonders of a unique Oaxacan celebration..
Throughout Mexico, one can find incredible food that varies among regions. But no region's cuisine compares to the amazing and imaginative Oaxacan food.  Join our Culinary Tour to Oaxaca and discover the flavors of Oaxaca
There are many things to see...
With unlimited sunshine, great conditions, and plenty of family-friendly activities to enjoy at both base areas, Santo Domingo Temple and Ethnobotanic Garden. Hurry...with an experience like this you won't forget Oaxaca!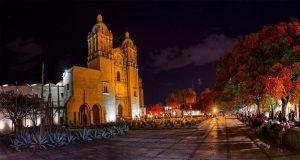 Oaxaca is known for many things heres a list that can help you out when you plan to visit us.
Read More »
MOCAventures stands for Monica, Omar and Carlos who are our founders and owners. We have been providing unique travel experiences for more than 10 years to travelers from Japan, UK, Canada, Australia and all over the US.
Groups
Accomodations
Agenda
Meet the Masters
History
Flavors
Need More?
Groups
We are committed to providing tailored Oaxacan experiences on a small scale. Our groups have a maximum of 10 people because we want to provide personalized service and feel that our participants appreciate the chance to interact with others in the group. Many of our participants keep in touch long after they have returned to their home countries..
Accomodations
Agenda
Meet the Masters
History
Flavors
Need More?
I returned a week ago from this incredible adventure to Oaxaca to celebrate Dia de Los Muertos. I waited to write this review as I needed to continue to process this unforgettable experience. Before I even embarked on this journey, the wonderful communication from Monica put me at ease about all the details ahead and made everything so easy. When I arrived in Oaxaca and was met by Omar at the airport, I knew I was in good hands. Wow....he said the week would be magical and that was an understatement. The charming hotel, the wonderful group of people on the tour, the excursions carefully selected, THE FOOD, the personal attention to our group was beyond my expectations. I loved every second and continue to look at the photos I took to remember this overwhelming experience. Thank you to Monica, Omar and Joel for providing me with the experience of a lifetime!
Florence Andreson
International Traveler
MOC Adventures' Day of the Dead tour is hands down the finest small-group tour I have ever experienced—and I have been on some excellent tours of Paris, Ireland, Guatemala, and New York City, among others. Each day was filled with carefully thought-out, culturally rich experiences, including market visits, an outstanding cooking class, a mask-making workshop, a chance to build our own ofrenda honoring our departed loved ones, a trip to a small-town cemetery, visits to top-notch craftspeople, and so much more. Many meals were also included, at some of Oaxaca's finest restaurants. All of this took on so much more meaning because it was organized by Omar Flores and Monica Malanco Flores, a kind, smart, patient, and knowledgeable husband and wife team from Mexico City (now living in Austin) who love their country and are dedicated to sharing it each year with a few lucky travelers.
Lynette Lamb
A magical, unforgettable experience
I'm just completing my Day of the Dead tour through MOC and have to give it the blue ribbon of all my travels. These professionals only do the Day of the Dead tour and a culinary tour of Oaxaca and their goal is to help people experience the real Oaxaca. That goal was definitely met. The highlight was the whole Day of the Dead experience -from making and decorating our own mask to a lecture on the history of this celebration to being part of a comparsa and dancing in the town square to making our own ofrenda to a late night visit to the cemetery where the families are honoring and celebrating their Dead -you were immersed in the culture and left with a feeling that you have a better idea of the Oaxacan traditions. And the food -oh my! THis was foodie heaven with dining at a variety of restaurant with master chefs! This was the trip of a lifetime in so many ways and I would definitely recommend it for anyone that wants to learn through an authentic experience.
Genevieve K
Just the best tour that doesn't feel like a tour!
I loved everything about the holiday I had organised through MOC adventures. The accommodation was great and in the best location, the food was top rated and the activities were fantastic. They also gave us enough down time to explore the markets and town of Oaxaca. Many thanks Monica, Omar, Carlos and a big shout out to Daniel who was so much fun. Highly recommend booking the day of the dead celebration through this company
JoceW_11
The best holiday
This little tour company is based in the US (in Texas), but don't let that fool you. If you want to see the original celebration, with roots dating back many centuries, go to Oaxaca. The parades pass by with great regularity over several days on the streets on the way to the city square in front of the cathedral, the Zocalo. The Zocalo has two or more elaborate offrendas, party activities, and a festival atmosphere, including folk dancing. It makes for a splendid scene. I can imagine this is a very sweet tradition, and we were able to experience some of that; they're the best.
Triumph3A
Davis, CA
Ask Questions or Consult Us!